The MoneyByRamey.com Dividend Watchlist: 10/15/19
Today we'll review the dividend watchlist that I use in selecting my dividend stocks. This dividend watchlist is effective as of 10/15/19. We'll sort by the four criteria I often use:
Share Accumulation
Trading Off Lows
PE Ratio
Dividend Income
*Note that the screener is currently slated with $1,000 as the initial investment amount.
*If you do not know any of these investing terms, head on over to financial definitions, where I look to keep an updated list of the investing terms we use throughout the website.
---
Share Accumulation
The goal in sorting by share accumulation is to find stocks that are trading for lower price points so that I can accumulate more shares via DRIP.
The MonyByRamey.com Interesting Play: Hanesbrands, Inc. ($HBI)
While the apparel sector is a challenging place to be, I'm intrigued by HBI. I haven't yet bought any shares, but the chance to buy a strong brand name at a decent price is one that I'm looking into further.
The company has a good balance sheet and has been cash flowing with good profits the past few years. Revenues have been a bit stagnant though, which will be something to watch moving forward.
---
Trading Off Lows

I use the trading off lows sort to find stocks that are unfavorable in eyes of the current market. As a value investor, this is a great place to begin identifying value in the form of a reasonably priced stock.
Just because a stock is trading off lows doesn't make it an ideal candidate for investment. However being on this list means that it is a stock that catches my eye for potential future investment potential.
The MonyByRamey.com Interesting Play: Centerpoint Energy ($CNP)
I do not own any utility companies in the portfolio. The chance to consider buying $CNP, which is trading $1.33 off of 52-week lows is an interesting proposition.
When I have screened utility companies in the past, it seems as though they have maintained negative working capital, which is not something I like to see in my dividend-paying stocks.
I was also spooked when PG&E declared bankruptcy as a result of the California wildfires, which were out of its control.
Not sure if I'll make an investment into CNP, but it is certainly a stock worth keeping my eye on.
---
PE Ratio
PE Ratio is a valuation metric that tells us how much the market is valuing the current company's earnings. If we see low PE Ratios, this means that the company recently earned a good amount of income, but the market is not valuing those earnings as highly.
The MonyByRamey.com Interesting Play: Ryder Systems ($R)
In my previous stint as a consultant for Red Wing Shoe Company, we dealt with Ryder Systems. I became intrigued into their company's operations and when I learned they paid dividends, put them on my screener.
I have investigated their stock in the past and wasn't thrilled about their business model. They are truck rental company, with the focusing seeming to be on B2B customers.
Be this as it may, the company seems to be a pretty solid operator. I'm not sure I'll buy into them any time soon, but the fact that they are showing up on one of my sortable criteria makes it an interesting stock to watch.
Want to Learn Active/Passive Income and Investing Strategies?
Sign up for our Live Free and Div Hard email list to receive exclusive ideas and tips straight to your inbox!
---
Dividend Income
Dividend income is the king of my screener. When looking to deploy capital into the markets, the goal is to generate as much income as possible in solid cash-flowing companies.
By doing so, the goal is to continue buying more shares through a DRIP program. While the stock price remains depressed, I remain a winner through massive share accumulation.
The MonyByRamey.com Interesting Play: Iron Mountain ($IRM)
I've looked into IRM in the past and have not made an investment. This is because IRM is in a largely dying industry – document management. Sure companies will continue to use paper for the foreseeable future, but as environmental activism grows and companies are pressured to continue cost savings wherever possible, a paperless world is a coming reality.
But IRM is looking to diversify and I am waiting to see how that diversification is going. They are making inroads into data management, back up, and security.
Can a paper-based security company make the transition to securing various company's data? Time will tell.
---
Keep in mind that this dividend watchlist will continually change as the markets fluctuate. The goal in having this list is to keep watch of those fluctuations to find out when stocks are trading at reasonable valuations.
I'll keep posting this from time-to-time and write up the analysis for everyone to read!
Simple Investing Now Available!
Want to learn the dividend investing strategy? Learn the ins and outs of how to invest in dividends to grow your passive income!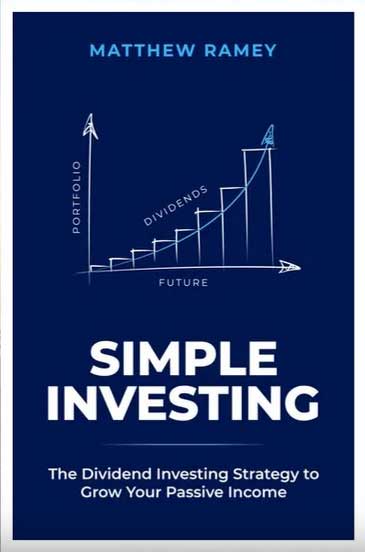 ---
What do you think? Which stocks are you watching? Comment below and get the conversation started!
---
Disclosure: I am/we are long $AAPL, $ADM, $BG, $BP, $BUD, $CALM, $CAT, $CMI, $CTL, $DAL, $F, $FAST, $GE, $GT, $JNJ, $IBM, $INGR, $KHC, $KO, $KSS, $MMM, $NWL, $PFE, $PG, $SBUX, $SJM, $SPTN, $STX, $T, $TSN, $UPS, $WFC, $WPC, $WRK, $WY, $XOM

Disclaimer:(1) All the information above is not a recommendation for or against any investment vehicle or money management strategy. It should not be construed as advice and each individual that invests needs to take up any decision with the utmost care and diligence. Please seek the advice of a competent business professional before making any financial decision.

(2) This website may contain affiliate links. My goal is to continue to provide you free content and to do so, I may market affiliates from time-to-time. I would appreciate you supporting the sponsors of MoneyByRamey.com as they keep me in business!