Best Dividend Stocks for 2021
Welcome to the Best Dividend Stocks for 2021! In this post, you can find our list of the top 25 best dividend stocks for your portfolio as well as the four foundational dividend stocks that we feel confident in owning now and into the future.
Through buying into awesome, quality dividend stocks that fit our investment criteria, we have built our $6900+, 56 position dividend portfolio!
Is the dividend investing strategy right for you? Check it out today!
If you want to learn more about passive income generation, investing, and money hacks, be sure to sign up for our investing email list, Live Free and Div Hard!
The Top 25 Dividend Stocks for 2021
Below you will find a list of the top 25 best dividend stocks. These are ranked based on my own, specific criteria and inside hunch.
I have included some honorable mentions as well.  I will look to update this list every so often based on market updates, etc.
Be sure to check out our downloadable dividend watchlist as well, which is a collection of 650+ dividend-paying stocks complete with the valuation metric, the Ramey Rating.
The Top 25 Best Dividend Stocks for 2021
The Top 4 Foundational Dividend Stocks for Your Portfolio
Below you will find the four best dividend stocks for your portfolio.  These are the foundational stocks that can really anchor a dividend portfolio and set it up for a truly successful execution of the dividend investing strategy.
All of these stocks will be dividend aristocrats, which means it has been paying steady and rising dividends for 25+ years.
Note: I currently own these foundational dividend stocks in the MoneyByRamey.com Dividend Portfolio.
#1: Procter & Gamble ($PG)

Tagline: Touch Lives. Improving Lives.
Founded: 1837
Employees: 95,000
Revenues: $67.7B (2019)
P&G is a monster in the world of dividend investing. Its roots date back to 1837, where it was begun as a consumer goods product company.  Brother-in-laws William Procter and James Gamble took their respective skillsets – candlemaking and soapmaking – which was eventually turned into the business empire that exists today.
Products
P&G makes some of the most iconic products known to the world over.  Its name brands include Tide, Bounty, Charmin, Old Spice, and Dawn just to name a few.
What I really enjoy about this company is that they manufacture a lot of the brand-name products that I already use on a daily basis.  I feel like I am always finding new products manufactured by this powerhouse.
For instance, I was sick recently and went out to buy a humidifier.  I picked up a Vicks model, and lo and behold, the manufacturer was P&G.  It was a great day to be a dividend investor, as I am making a purchase and support my stock at the same time.
Dividend
P&G is a dividend aristocrat; it has been increasing the dividend payment for 63 years.  The current payout is at $0.7459 per quarter, which comes out to an annual payout of $2.98/year. Through thick and thin, investors have been able to bank on this dividend payment.
Let's check out what you would receive if you were to buy $10,000 worth of PG at today's current prices:
If one were to pick up $10,000 worth of $PG stock, you would get:
2.3 additional shares per year
2.63% yield
$263.50 in annual dividend income per year
The MoneyByRamey.com Outlook
In 2018, P&G increased prices to help offset declining sales.  The changes worked. The street loved the stock's 2018 Q2 performance.  Will consumers stick with name brands or continue to off-brands? Time will tell. I know for me, I love the quality I get from name brands, and the chance to own the company that makes those products is certainly a boon.
I'll keep P&G on DRIP for many years to come.
---

Tagline: Taste the Feeling.
Founded: 1886 (Coke first on the marketplace)
Employees: 61,800
Revenues: $37.27B (2019)
Coke is another company with a long history of success which allows for it to come in at #2 on the MoneyByRamey Best Dividend Stocks list.  Its roots date back to 1886 when pharmacist John Pemberton invented the product as a soda-fountain drink.  The formula has been little changed since then, and now Coke is one of the most recognizable name brands the world over, often ranking in the top 3 list for most recognizable brand names the world over (1).
Products
Coke's main product is its soda brands.  Most everyone alive knows of the Coca-Cola brand name.  Some of its most popular soda brands are Coke, Diet Coke, and Sprite, to name a few.
But Coke doesn't stop there; it is diversifying into other product models which it believes will help offset the recent downward trend in soda sales.  Some of the products that it is diversifying into:
Dasani Water
Powerade
Simply Orange
Costa Coffee
Fun Facts
Daily servings of Coke are estimated at 1.9B globally (2).
Warren Buffett currently holds 400M shares of KO and states that he will never sell a share as long as he lives (3).
Dividend
Coke is a leader in increasing its dividend payment yoy.  It is a dividend aristocrat and it has paid an increasing dividend for 57 years.  The current payout quarterly with the current dividend at $0.41/share which comes out to a $1.64/yr in annual dividend payment.
Let's check out what you would receive if you were to buy $10,000 worth of KO at today's current prices: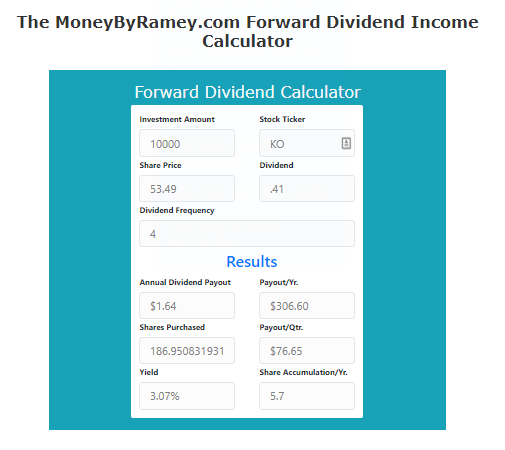 If one were to pick up $10,000 worth of $KO stock, you would get:
5.7 additional shares per year
3.07% yield
$306.60 in annual dividend income per year
The MoneyByRamey.com Outlook
I added this stock into my portfolio after doing some soul searching.  At first, I chose Starbucks over Coke as I didn't like the declining revenues at Coke.  The entry into $SBUX has paid off nicely. However, I recently became enamored with Coke after its Costa acquisition.
I like the fact that Coke is beginning its foray into various vehicles to offset the trend away from soda.  In 30 years, I still see a Coke dominance in the soda market, but I see those markets being down significantly.  Coke might become a holding company name of other stellar brands.
Considering this is the case, I am happy to own this stock as it continues its dominance with Coca-Cola and makes its foray into other, awesome brands and product types.
---
#3: 3M ($MMM)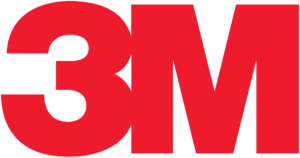 Tagline: Science. Applied to Life.
Founded: 1902
Employees: 92,000
Revenues: $32.14B (2019)
Description (from the 10-K) (4): 3M is a diversified technology company with a global presence in the following businesses: Industrial; Safety and Graphics; Health Care; Electronics and Energy; and Consumer. 3M is among the leading manufacturers of products for many of the markets it serves. Most 3M products involve expertise in product development, manufacturing and marketing, and are subject to competition from products manufactured and sold by other technologically oriented companies.
The three Ms stands for: Minnesota Mining and Manufacturing.  They really should stand for Mad Market Master as 3M is a dominant force in various industries.  It is a conglomerate that owns many companies and product lines worldwide.
Products
3M is a solid company with great products; through applying science principles to current and new products, the company is able to continue reinventing itself and stay on top of market trends.
Another great thing about 3M is that it produces so many products that we utilize on a daily basis.  Brands like Scotch, Scotch-Brite, Filtrete, and Post-it are some of the well known 3M consumer brands.
But it doesn't stop there.  3M makes all sorts of different products that we deal with on a daily basis.  In fact, according to Investopedia (5), 3M makes 55,000 different products. That is truly a staggering number.
Dividend
3M is another dividend aristocrat.  It has been paying a growing dividend for 61 years.  The current dividend is $1.47/quarter, which makes for an annual payout ratio of $5.88.  Through the many years, 3M has been steady on both the payment of a dividend and increasing that payment year-over-year.
Let's check out what you would receive if you were to buy $10,000 worth of PG at today's current prices: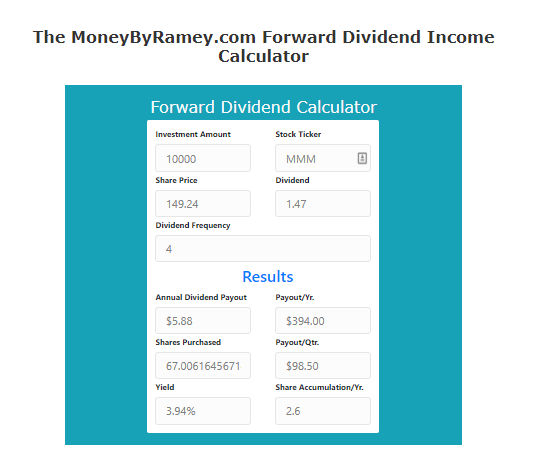 If one were to pick up $10,000 worth of $MMM stock, you would get:
2.6 additional shares per year
3.94% yield
$394.00 in annual dividend income per year
The MoneyByRamey.com Outlook
I love 3M.  First off, the company is based in MN, which makes it near and dear to my heart.  While this information doesn't create a reason to buy, it certainly adds to the affinity with this company in my mind.  In a sense, it makes the company more real.
Secondly, the company makes a ton of products that we use on a daily basis.  One of my criteria in buying stocks is looking to deploy capital in companies that manufacture or provide services that I use on a daily basis.  3M is one of those companies. Through Post-It Notes, Dry Erase boards, Scotch Tape, et al, I am helping to support one of the companies that I personally own.
There are also many products that we do not utilize on a daily basis but that are important none-the-less.  A product that immediately comes to mind is protective masks to help keep out dangerous chemicals, or in a 2020-specific concern, the Coronavirus.
There is no better feeling for an investor than in using the products of the companies you own.

Tagline: Your World. Delivered.
Founded: 1983 (as it stands now)
Employees: 273,710
Revenues: $181.27B (2019)
Description: AT&T is a giant.  When I first started to invest, I took notice of how massive this company actually is.  It had $170.8B in total revenues in 2018, which puts it near the 20th spot for the largest company in the world by revenues (6).  Its employee count of 274k is massive.
While these figures do not mean much in and of themselves, I simply put them here to demonstrate the far reach that $T can have on the world.  I love having a stake in a company with such worldwide reach.
Products
The company is all about communications. What exactly does that mean?  Here is an excerpt from the company's annual financial statements: We are a leading provider of communications and digital entertainment services in the United States and the world. We offer our services and products to consumers in the U.S., Mexico and Latin America and to businesses and other providers of telecommunications services worldwide. We also own and operate three regional TV sports networks, and retain non-controlling interests in another regional sports network, a joint venture that aims to create media and digital brands and a network dedicated to game-related programming as well as Internet interactive game playing. (7)
Some of its top product lines include:
AT&T – Communications
DirectTV – Satellite TV
Cricket Wireless – Communications (discount)
Through these divisions, the company looks to continue offering Mobile solutions to the world.  It is currently leading the charge in implementing 5G technology throughout the world.
Dividend
AT&T is a dividend aristocrat.  It has been paying a steady, growing dividend for 35 years running.  Its current dividend is $.52/quarter, which comes out an annual dividend payout of $2.08.  Though AT&T is 'younger' in terms of its dividend payment record than the other companies previously mentioned, it is still a solid streak of dividend payments.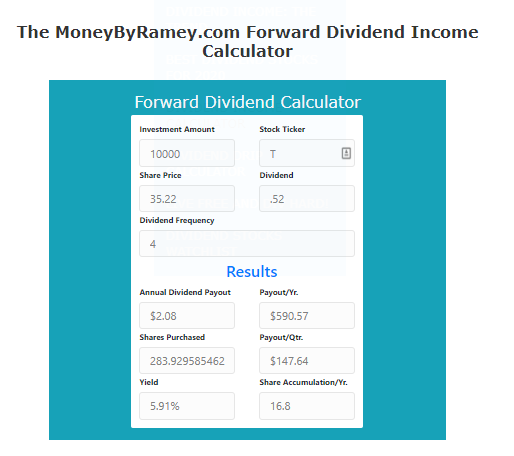 If one were to pick up $10,000 worth of $T stock, you would get:
16.8 additional shares per year
5.91% yield
$590.57 in annual dividend income per year
The MoneyByRamey.com Outlook
Out of all these stocks, $T proves the highest in risk profile.  It has a large debt load and it is questioned whether the company paid too much to acquire Time Warner.  With that being said, with great risk comes great rewards.
$T has a great dividend yield of ~6% and its shares are trading near 52 weeks lows.  My biggest positive with $T is that it continues to have ample cash flow. Since cash flow is the ultimate determiner of a company's earning power, it stands to reason that so long as cash flow remains high, debt can be paid while the dividend is preserved.
Overall, I feel comfortable with my current position in AT&T.  I am not sure I would add any more at the moment, though the proposition remains lucrative at these price points. I'd like to see debt being paid down and see solid progress on the Time Warner acquisition being paid down before I feel comfortable deploying more capital into this company.
*I/We are long PG, KO, MMM, and T.
Citations
http://s2.q4cdn.com/974527301/files/doc_financials/2017/Annual/2017_3M_Annual_Report.pdf
---
Disclaimer
(1) All the information above is not a recommendation for or against any investment vehicle or money management strategy. It should not be construed as advice and each individual that invests needs to take up any decision with the utmost care and diligence. Please seek the advice of a competent business professional before making any financial decision.
(2) This website may contain affiliate links. My goal is to continue to provide you free content and to do so, I may market affiliates from time-to-time. I would appreciate you supporting the sponsors of MoneyByRamey.com as they keep me in business!