Webull Review & App Overview
Hi all! In today's changing trading environment, I want to ensure that I keep up-to-date on all the available tools and resources in the financial freedom journey. Today I will go over my Webull Review and offer my thoughts on the trading platform.
Since I never want to write about a product I haven't used before, I downloaded and have been using this app to make trades for the past few months. Today I will give you my honest feedback.
Note: If you want to try out the platform, be sure to use my referral link so that you get more even more stock bonuses!
Check out the Forward Dividend Calculator
1. Webull Overview
Webull is an app-only based trading platform. It is available on most smartphones and appeals to those traders and investors that are on the move.
Below I'll show you briefly how the app works, how I use it, and give you my recommendation and experience in using the app.
1.1 The Webull Platform
I find its platform simple and easy to understand. The app offers a simple view when you log in which shows the investor his/her watchlist of stocks:
If you want to see your positions, you simply click on the Webull logo icon in the bottom middle of the screen:
Here you can see your overall portfolio holdings, in addition to the amount of cash you own and how much more you have to invest.
This view is very simple to understand and from here, we can go to many different places in the Webull App.
1.2 Signing Up for Webull
Signing up for the platform was relatively easy and straightforward.
Simply search for "Webull" in the Google Play or Apple store: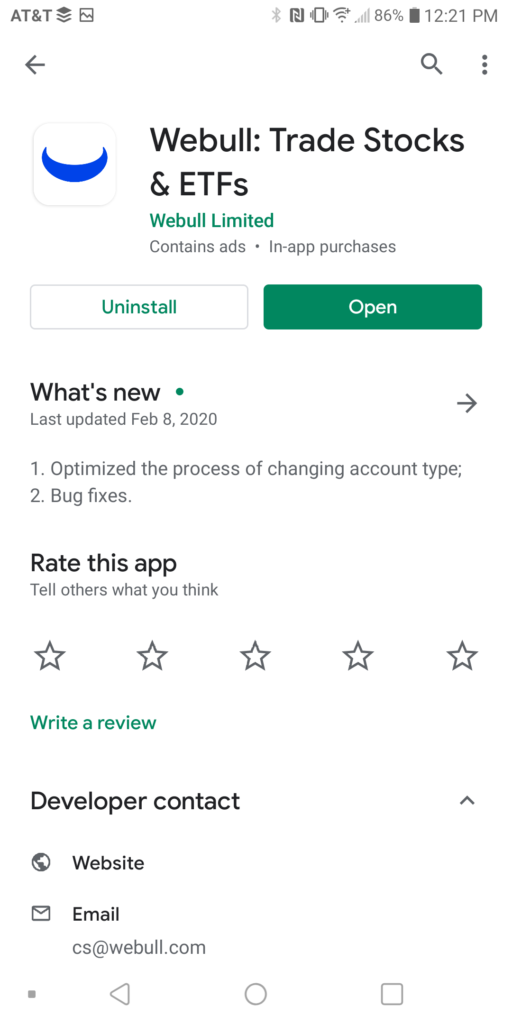 Currently, the app has a solid 4.4 rating amongst its users: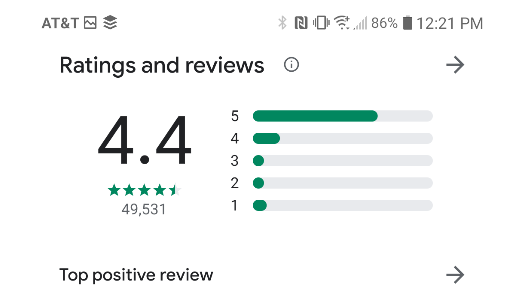 The top positive review:
The top negative review: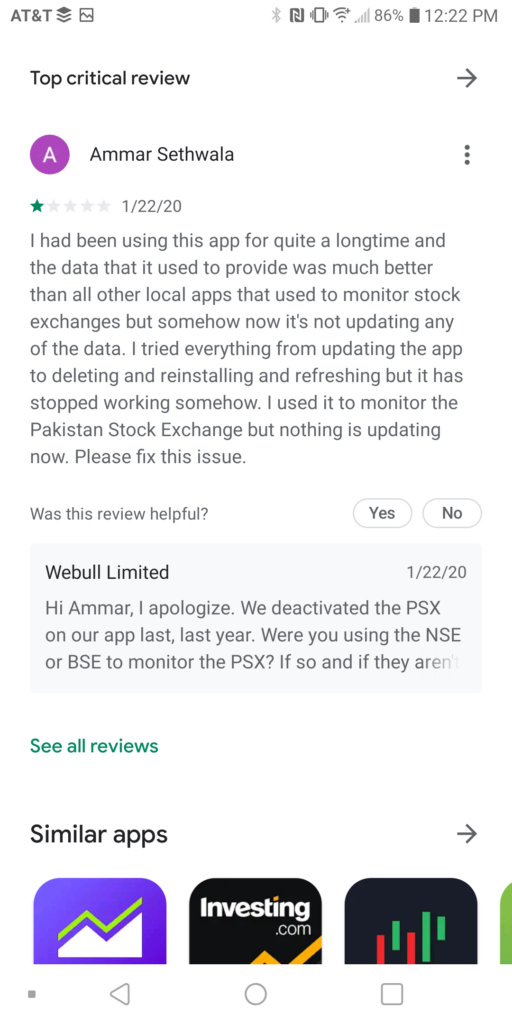 I like how the company actively responds to this review and is looking to troubleshoot the problem. This tells me that Webull is a company focused on supporting its app and improving it for all that use it.
1.3 Using Webull
I have been using the Webull app since mid-2019 and have found the ability to trade within it straight forward.
I like that it is based on simplicity and you can find everything seemingly where it should be.
The app seems to really be built for traders. The screen which shows your account titles it as a "P&L", which is really trader lingo for Profit and Loss.
The above is an actual screenshot of my current positions. I do not have a ton of money in this app yet but when I am considering a new broker, they might get more of my capital.
From the positions screen, making a trade is simple. You simply click the 'quick trade' button, which still then prompts you to enter your account pin:
I like the extra layer of security. I reset at peace knowing that if I lose my phone and someone manages to crack my extremely tough password, then at least there is another layer for this particular app.
There is also various views of your account from an overall P&L perspective:
I like that one can track the performance of the various positions in the portfolio from many different views and perspectives.
We'll get more into the individual stock overview later in the article.
1.4 Researching Stocks Overview
Webull does offer some nice tools for researching stocks as well. Though I haven't used these much because I have my own proprietary models for stock research, I definitely find the ability to view stocks through Webull enticing.
Sometimes if I'm traveling in a place where I don't have easy access to my own information, I will hop onto the app to view how various stocks are doing.
Here are some of the overviews that the app offers:
1.5 General Market Overview
First off, there is a nice general market section, which shows the tracking of various indices across the world: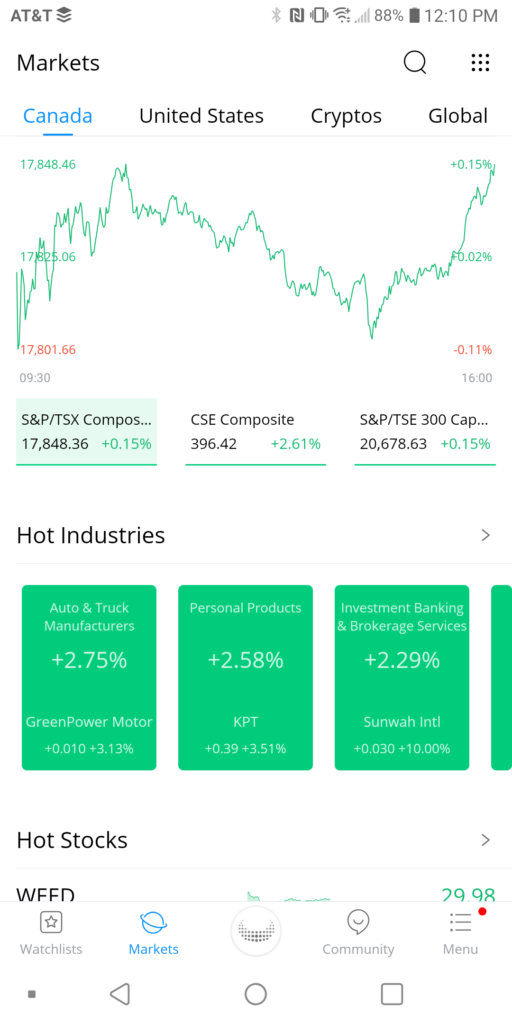 As you can see, the app shows the general market trends in Canada, US, Cryptos, and Global.
We'll explore each one in more detail below.
1.6 Webull US View
If you click through onto the US view, you'll get a listing of the usual items found in stock screeners, which includes the Dow Jones, S&P, and Nasdaq markets along with performance graphs: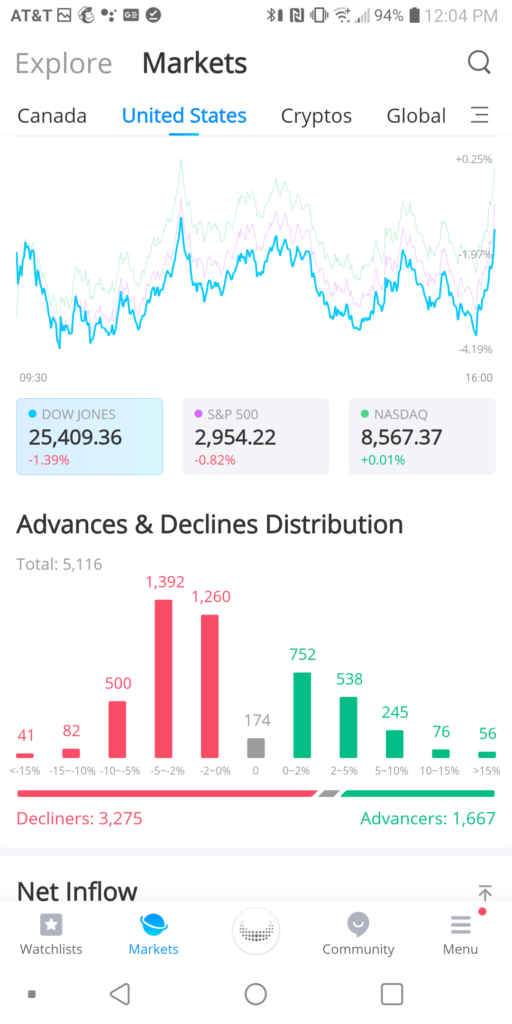 In the above example, it shows you Advances/Declines by the overall market. You can also see the best performing industries by % gains over a certain time period: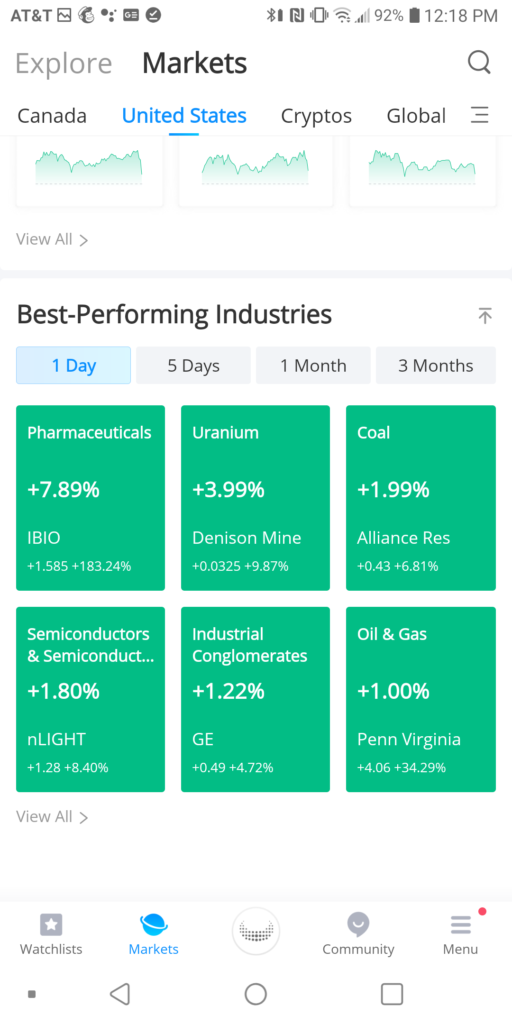 Both of these are nice pieces of macro data that can help individuals like me make choices in certain stocks based in certain markets.
1.7 Top Gainers/Losers
The app also has a nice feature where you can quickly view the top gainers or losers for the day or a certain time period.
For value investors like myself, it can be a great way to view stocks to see which stocks or industries are trending in a good or positive direction:
There is also the option to sort by top losers:
This could be a good place to begin looking for stocks that the market is undervaluing. Though I find that the list is not quite exhaustive enough for me to really get a good sense of the stocks I'd like to see. It can be a good starting point to obtain a 'sense check'.
1.8 Global View
For worldwide investors, you can also see how the world markets are currently trending: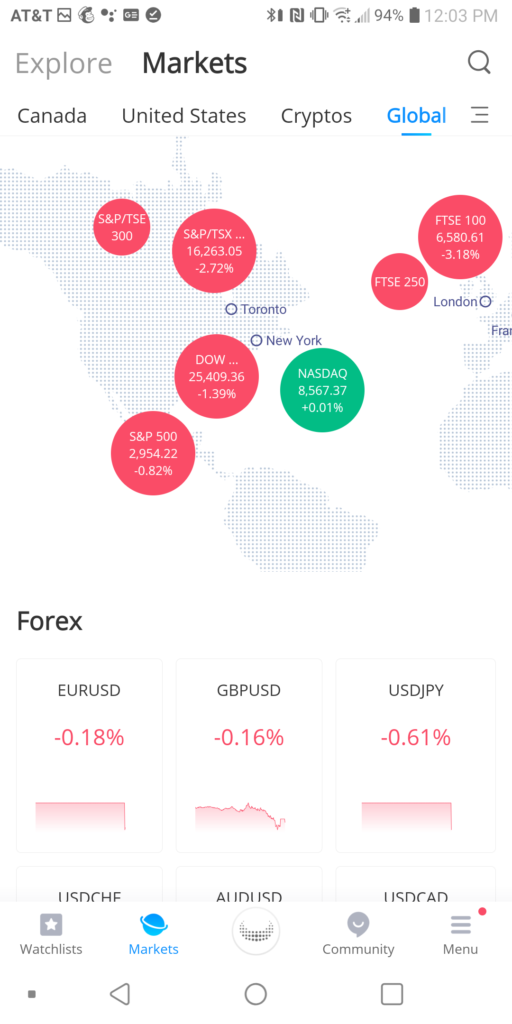 There isn't much detail here, but that is what I like about it. It has a minimalist feel to it and allows the investor to quickly get an overall view with a quick glance.
I find this type of quick-view is important to me if I want an update while I'm on the go. Having this nice view on my app allows me the ability to access the data, which is especially beneficial when I'm traveling and do not have access to a desktop for a detailed view.
1.9 Cryptos View
If you are really adventurous and interested in cryptos, the Webull app also shows you the crypto trends throughout the day: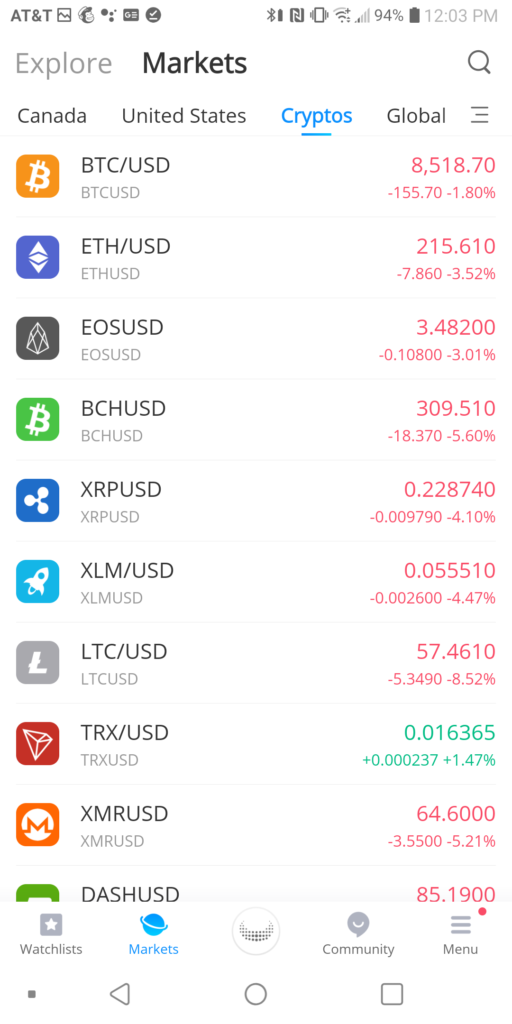 Even if you are not a big fan of crypto, I personally like knowing that the app recognizes that many people do like to trade these currencies and builds this functionality into its app.
Being a crypto enthusiast myself (I own a small position in Ethereum and Nano), I like being able to see what the currencies are doing on any given day.
2. Individual Stocks Overview
Once we get past the overview portion of the app, we get into the bread and butter of any trading app; being able to view, analyze and trade individual stocks.
For this purpose, I'll take you through viewing Intel ($INTC).
2.1 INTC Summary
Individual stock analysis is where Webull excels. It has a great view of what the stock is doing for a given time period along with a click-through view of major events:
Again, this view of Intel is easy to understand and offers a ton of information on what a particular stock is doing.
2.2 INTC Analyst Ratings
Once we get past the individual stock chart, there is some great info, including analyst ratings: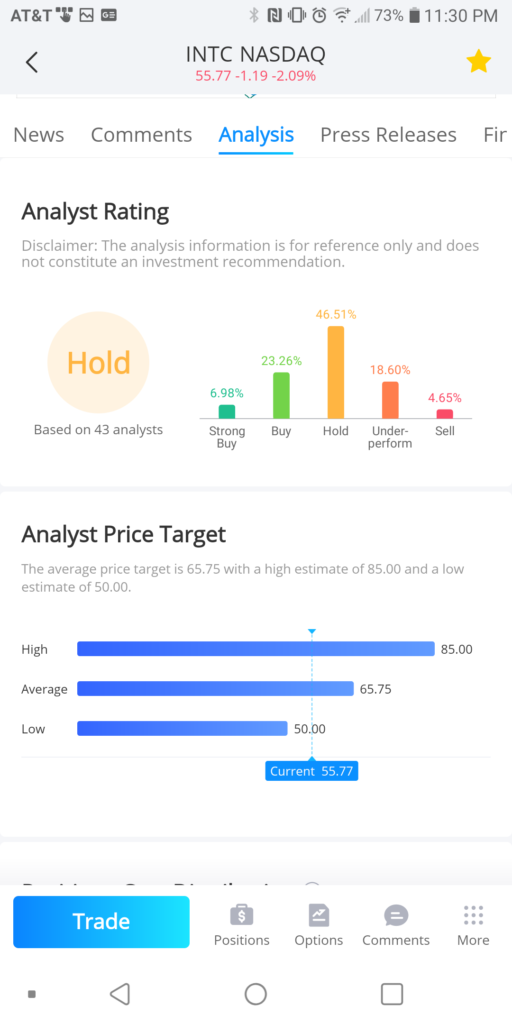 Now, I usually take analyst ratings with a grain of salt, as I find that these analysts oftentimes track the markets (that is, update their ratings only after a positive or negative earnings report).
But I do find it interesting to just view where current price targets are at and where everything is trending.
2.3 INTC Recent Bids
Webull also offers a 'bids' section where it tracks the most recent bids for the stock: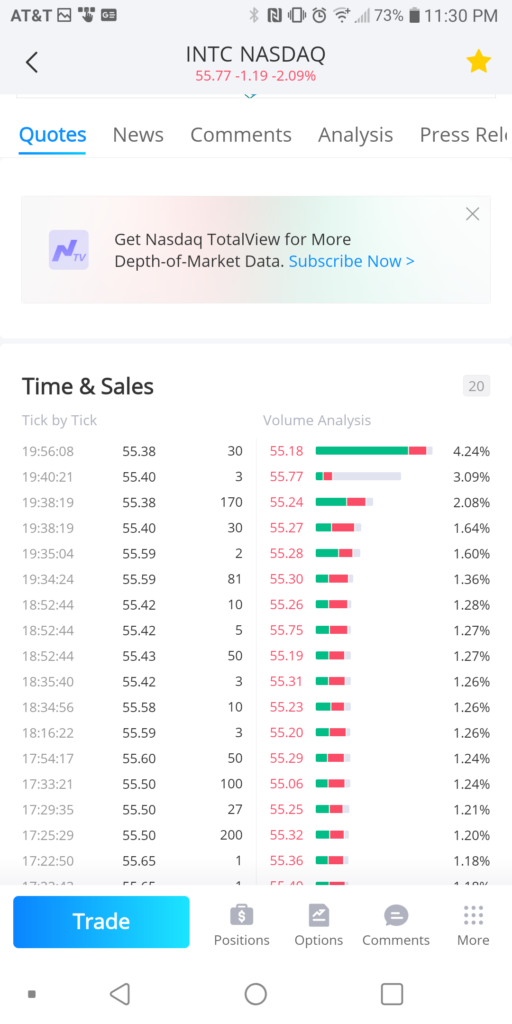 I do not use this section very much, but I could see someone using it to identify the direction of the bids of stock to anticipate which direction the price might be heading.
This is more 'in the weeds' than I like to get with my stock analysis, so for me I don't use this section too much. Good that the info is there though.
2.4 INTC Stock Prediction
The stock prediction tool is interesting. It seems to be a calculation of the community comments section (discussed below):
As an investor myself, I like to get a feel of where Mr. Market is at, and there is no better way than to actually get the sentiment from other investors.
Keep in mind the bullish/bearish ratings are based from users comments below, in which they indicate either a bullish or bearish feeling. So we should not be using this as our 'end-all-be-all' of whether or not to invest.
2.5 INTC News
Webull also has a nice news section: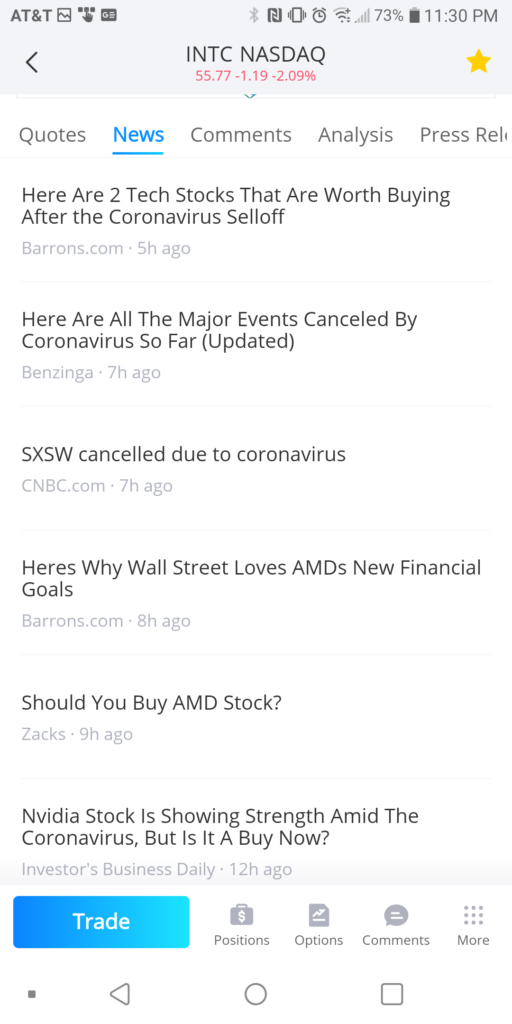 This is pretty standard and comes with most investing apps or platforms. It's good to know though that you can look to get the latest news in a 'one-stop-shop' atmosphere.
2.6 INTC Press Release
Webull also has a press release section, which really is a place for it to keep pertinent information, such as the current dividend, splits, and any other pertinent news:
This is nice for the dividend investor who wants to get to know a stock. Although I'd personally recommend the MoneyByRamey.com Dividend Watchlist for getting stock info.
And once you have that information, try out our dividend income calculator!
2.7 INTC Financials
The financials section for Webull is a bit lacking. It has a minimalist view as well, which is ok, but I personally wouldn't complete my due diligence utilizing this information.
Below is a look and feel of some of the information you can find:
2.8 Earnings
2.9 Financials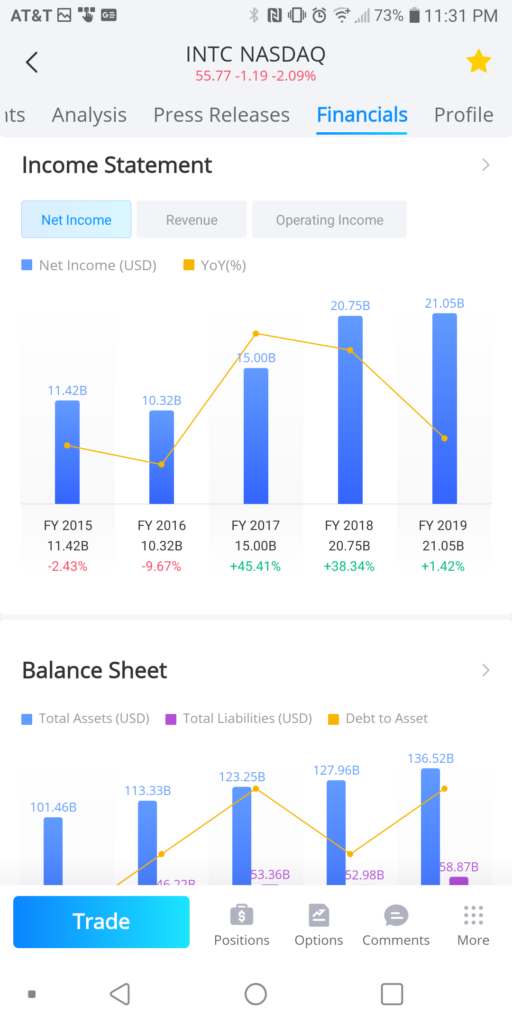 They do offer some more color, but you get the feel. I'd personally recommend utilizing other stock research websites, such as FinViz.com, especially if you are a details-oriented investor like myself.
---
Simple Investing Now Available!
Want to learn the dividend investing strategy? Learn the ins and outs of how to invest in dividends to grow your passive income!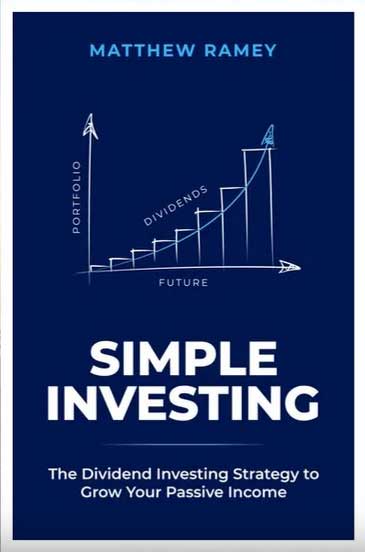 ---
3. Other Webull Features
3.1 Webull: The Community Room
So this might just be something I enjoy, but I do like community room-type features where I can read what other users are saying about the stock or markets in general.
Webull offers a Community section which allows the user to scroll through the latest user comments: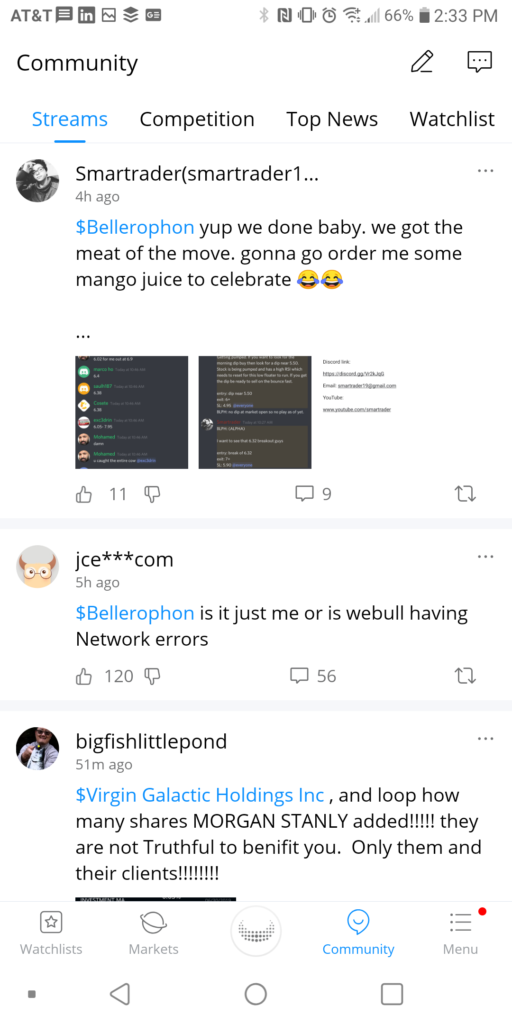 3.2 Account History
The account history section is a place where the investor can find any actions on their account: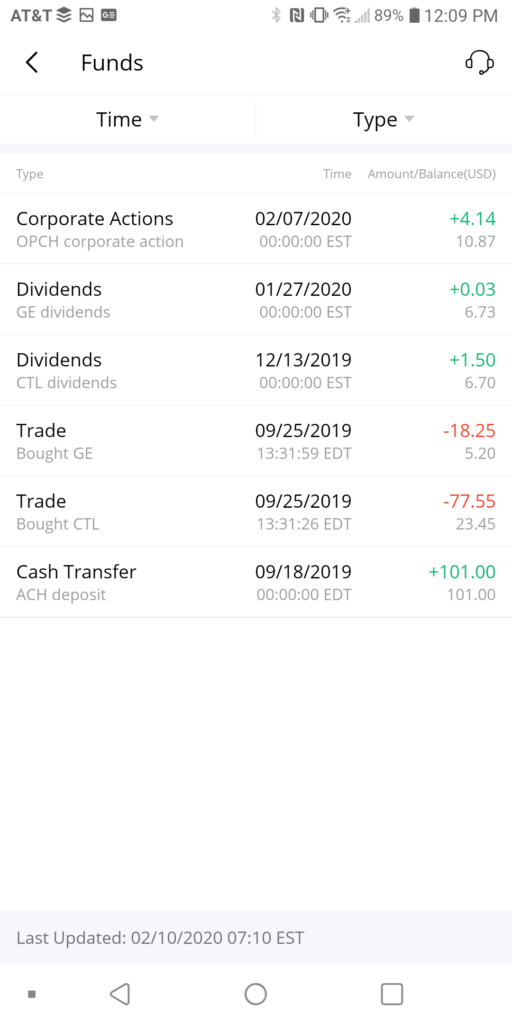 This includes purchases, transfers, dividends, etc. It's a nice summary feature that includes the minimalist feel.
3.3 Funding Your Account
The ease of funding your trading account is an important but often overlooked element of utilizing a trading platform.
Here I found that Webull offers an easy and seamless way to fund your account. Once your external account is set up, it is as simple as going to your account and selecting the deposit option, which brings you to this screen:
Now, this won't apply to the majority of those trading stocks, but I do like the larger $50,000 daily transfer limit.
This allows investors flexibility to take advantage of large market downswings by seamlessly and easily transferring funds when needed.
3.4 Transferring Stocks to Webull
I personally haven't used this option yet, but I wanted to write about it in case you are interested.
Webull offers the ability to a stock transfer from another institution, which is a very nice option for those who have owned a stock for a while and do not want to lose the benefit of doing so.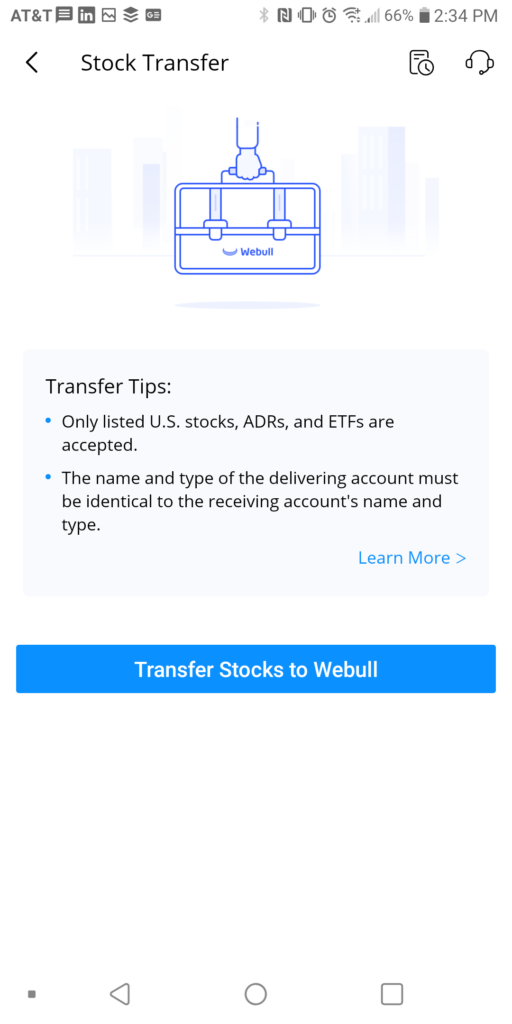 I have looked into this type of 'like-for-like' stock transfer as being a dividend investor, there are certain benefits that I get from holding onto a stock for a long time period (such as lower capital gains tax rate) that I do not want to lose via moving accounts.
If anyone has experience doing this type of transfer, I'd be interested in hearing your experience (guest post potentially???)
4. Webull Review
So now that you have a general overview on how the stock itself works, we'll offer up a general Webull review on whether or not we'd recommend the program.
4.1 Webull Review: Dividends
Webull is ok for dividend investors, but not great. This is mainly because as of this writing, the stock has yet to offer the powerful DRIP option with fractional shares being reinvested.
I do believe it will get there and will offer it down the road. However, as of now, investors need to take their dividends in the form of cash-only. This means that investors need to stay active in redeploying that cash in the markets or risk it losing its value to inflation.
4.2 Webull Review: The Free Stock Offer
What initially enticed me to join Webull was its free stock offer for making a certain deposit amount (I believe it was $100+ at the time).
It was intriguing enough for me to consider deploying my capital to try out this new firm.
While I have certainly enjoyed the platform, the stock offer was not that great.
The offer stated that you would receive a stock with a value between $1-$1,000.
I thought I would be receiving a decent household name and that it would be a good opportunity to obtain stock for FREE.
I ended up receiving one share of $BIOS (Option Health Care) for about $2. The stock has since done a 4-1 split, and since I didn't own enough shares, I didn't receive the benefit of the split.
However, I did receive a cash payout of $4 which is better than nothing.
Overall though, it seems like many other people received $BIOS stock as well, so I'm thinking that the pool for the household name stocks is rather limited.
Still, the chance is pretty cool though!
4.3 Webull Review: Pros
Ease of Platform Use.

With one button, you can get to pretty much anywhere in the app.

Developed for Noobs and Veterans.

I find that it is relatively easy to make trades which is great. They also have the ability for others to trade options and on margin as well.

Great Minimalist Feel.

As you probably picked up above, the Webull app has a great minimalist feel to it. I like platforms that operate seamlessly and allow investors to gather information easily.
4.4 Webull Review: Cons
The free stock offer is not great.

I mean, you get something free, so I really can't complain…

No Dividend Reinvestment Plan offered.

As a dividend investor, this is by far the biggest negative. Having all my positions on DRIP is one way that I'm automating my path towards Financial Freedom. For right now I'll take all my divvies as cash and use those proceeds to buy more shares when advantageous.
4.5 Webull Summary
Overall I have been satisfied using Webull and would recommend that you look at using the app as well. It's easy to use, has a minimalist feel, and thus far, has performed excellently.
5. Webull FAQ
5.1 How much do trades cost?
Stock trades are $0 commission. There may be fees associated with other forms of trading.
From the company's website: Free trading of stocks refers to $0 commissions for Webull Financial LLC self-directed individual cash or margin brokerage accounts and IRAs that trade U.S. listed securities via mobile devices or Web. Relevant Options Regulatory Fee, SEC and FINRA fees may apply
5.2 Where is my money held?
Your money is held through the APEX Clearing House. This is a reputable agency that helps to manage money transfers for some large corporations, such as Firstrade, Robinhood, and SoFi.
5.3 Who makes this app?
The parent company is Webull Financial, LLC and is based out of New York, NY.
It also is owned by Fumi Technology, a Chinese-based technology firm.
I could see this being a big sticking point for many individuals, however for me, I'm a believer in technological innovation and welcome it wherever it may come from.
5.4 Is my account SIPC insured?
Yes, Webull is SIPC insured.
From the company's website: Webull Financial LLC is a member of Securities Investor Protection Corporation (SIPC), which protects securities customers of its members up to $500,000 (including $250,000 for claims for cash). Explanatory brochure available upon request or at www.sipc.org.
---
Disclosure: I am/We are long $AAPL $ABT $ADM $ALL $BG $BGS $BP $BUD $CAG $CALM $CAT $CL $CLX $CMI $COF $CPB $CSCO $DAL $DFS $F $FAST $GD $GE $GIS $GT $HBI $IBM $INGR $INTC $IRM $JNJ $JPM $KHC $KMB $KO $KSS $LHX $LUMN $MMM $MSFT $NWL $O $PEP $PFE $PG $SBUX $SJM $SPTN $STAG $STX $SYY $T $TSN $UL $UPS $VZ $WBA $WEN $WFC $WMT $WPC $WRK $WY $XOM
Disclaimer: All the information above is not a recommendation for or against any investment vehicle or money management strategy. It should not be construed as advice and each individual that invests needs to take up any decision with the utmost care and diligence. Please seek the advice of a competent business professional before making any financial decision.
(2) This website may contain affiliate links. My goal is to continue to provide you free content and to do so, I may market affiliates from time-to-time. I would appreciate you supporting the sponsors of MoneyByRamey.com as they keep me in business!
---
Want to Learn Active/Passive Income and Investing Strategies?
Sign up for our Live Free and Div Hard email list to receive exclusive ideas and tips straight to your inbox!