Top 11 Best Stock Research Websites
Welcome to my top 11 Best Stock Research websites. I use each of these sites on a daily basis to research stocks that help grow my passive income on a daily basis.
In this post, I will go into detail about why I select these particular websites as the 'best in class' when it comes to investing research.  Enjoy!
Top 11 Best Stock Research Websites
1. MoneyByRamey.com
First off, I'd recommend MoneyByRamey.com as a tool in your best stock research websites list.
Over my years of investing, I have worked to build out many tools that can help me in my journey. The goal is to replicate these tools for my readers to utilize as needed in their own investing journeys. Some tools are still in the works, but some are readily available for use today:
Dividend Income Calculator: allows you to see the forward dividend income of any potential investment.
Dividend Income DRIP Calculator: a more detailed dividend calculator that allows you to see the forward dividend income along with the DRIP Investing ramifications.
Dividend Stocks Watchlist (NEW!!!): I am beginning to put my own dividend watchlist out on the website for all my Financial Freedom seekers. Right now the cadence of this will be 2x/mo., but I'm working to get this to be real-time data.
---
VIDEO BONUS: Be sure to check out the Youtube video review on SeekingAlpha, Finviz, and SEC.gov!
---
2. SEC.gov
Investors would be lost without SEC.gov. Here you will find access to financial information that is material to a company's overall operations. 10-Ks and 10-Qs are the most commonly looked at documents and will show you detailed reports on publicly traded entities.
This information is crucial in making an investment decision. Every investor should become very comfortable with reading and analyzing these reports as they are the key to coming up with proper valuation points on a company's operations.
---
3. FinViz.com
FinViz.com is another site that I use routinely. This site has access to great information, including a high-level summary on each individual stock. It also shows you the latest news and latest analyst recommendation on each individual security which can be valuable for a quick scan through.
I also use this site to track my portfolio gains/losses. It provides a quick check on how well my stocks are doing from a strictly gain perspective. The only drawback is that FinViz doesn't calculate dividends and/or stocks on DRIP, so my true positions are not reflected in the quick check. Despite this, it is a good site and one I use frequently in my stock research.
---
VIDEO BONUS: Check out the Guide to Using the Finviz Stock Screener!
---
Marketwatch.com is the best stock research website that I have found for summary financial information on any company I am researching.

What I like about the financial information is that it is well-presented, simple, and easy to understand.
Just visit the home page on any stock and you can see the past 5 years of annual financial information along with the trend of each category:
Or, you can easily toggle to the latest quarterly information to get a better sense of the up-to-date numbers. I find this gives me a great high-level glimpse as to which way the company is heading.
I currently use the Marketwatch information to go through my quickview phase, in which I check a few high-level numbers to see if this is a company that I want to entertain investing in.
---
Stocktwits is a relatively new addition to my best stock research websites list. It is an interesting tool that I am not very active on, but I do enjoy reading the thoughts on certain stocks.
Stocktwits is a user-based platform where active traders and investors will congregate to discuss the latest action on each stock. Think of it as the Twitter of stock market trading. Each person can create a username and begin posting right away. Here is the MoneybyRamey.com Stocktwits profile:
What I've found is that most of the individuals on the site are looking for actionable, tradeable information. This is the opposite mindset of a long-term value investor such as myself where once I buy, the dividend investing strategy dictates that I hold for the long-term. Therefore it doesn't make sense for me to be very active from a posting perspective.
The thing that really connects me with this platform is it serves as a real-time news update forum. If I see that a stock is trending up/down and being discussed at a higher volume, I can be certain that a newsworthy event has happened. It serves as an indicator to check the news for the latest and greatest for the stocks that I own.
---
The main reason why I utilize Nasdaq.com is that they have a very nice portfolio management tool. It is a different way to break down my portfolio, and gives me a breakout of the industry, percentage of portfolio, and the overall beta of my holdings.
Here is my current asset allocation on my dividend portfolio:

Here is the current beta of my portfolio: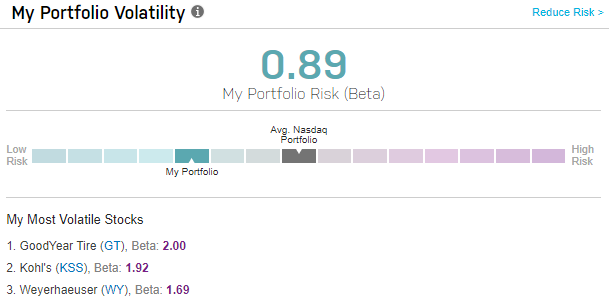 It also has a nice calendar feature which shows you when stocks will be releasing earnings and when the stock is going ex-dividend. I don't use this feature all that much as it doesn't tell me when stocks are actually paying dividends, which is what I am more concerned with.
Overall though, the Nasdaq tools are decent and another way that I can better track my overall portfolio performance.
---
Investopedia is not a stock research site per sey, but it is very important to my purposes, so I include it on this list.
This is because Investopedia is my go-to initial source for finding out more definitions on trading or investing terms that I do not understand. Even though I've been in this game for a while, I still find that I do not understand all the terms that I am reading.
Therefore, a quick search on Investopedia usually answers my question in a succinct fashion.
---
Moody's is a rating agency that I utilize to better understand debt ratings of certain companies (and even countries) that I invest in.
Knowing how an outside ratings agency views the company's overall debt profile is important because it gives me a sense check as to where my current outlook of the company is at.
For instance, if I'm reviewing a stock and it seems to be an interesting dividend investing play, but I head over to Moody's and see that the company's debt ratings are 'junk' status, that gives me pause, which typically signals more thorough due diligence needs to be completed.
Or perhaps I'm looking at a stock that is 'beat up' on bad news, like when Johnson and Johnson ($JNJ) was with the opioid lawsuit crisis.
One quick look at Moody's and I see that JNJ's credit rating is the same as the US Government, which is a pretty amazing feat for any company:
While most of Moody's services are subscription-based, they do offer occasional ratings – usually on a yearly basis – for free to anyone.
They also have a nice country rating system which I find useful when looking to deploy capital outside of the United States.
Because Moodys helps me understand a company's debt rating in more depth, it qualifies on the best stock research websites list!
---
Ah, DRIPInvesting.org. This is one of my most favorite best stock research sites. They have excellent information specific to dividend investing, but also offer general investing tips for everyone to consider.
The best benefit of visiting their site is the 1x/month US Dividend Champions list which is kept up by Justin Law.
This list contains every dividend-paying stock which is filtered by status:
Dividend Aristocrat: companies that have increased their dividend payment for 25+ years.

Dividend Champion: companies that have increased their dividend payment for 10-25 years.

Dividend Contender: companies that have increased their dividend payment for 5-10 years.
The downloadable spreadsheet contains a wealth of information for the investor. It offers how long the stock has been paying dividends, payout ratio, expected next dividend increase, etc.
The only drawback with this site is that the information is manually updated and therefore only published one time per month. Previously I used the information for my watchlist, but eventually, I built my own tool with API and now offer my dividend stock watchlist for viewing 2x/month on my own site. The goal is to eventually get this to be real-time data for all of my users!
---
CNNMoney makes the best stock research websites list, simply because it is the best tool I have found to discover institutional ownership transactions on a particular stock.
Previously this honor went to Nasdaq, but they since removed the tool with a site revamp and I can't seem to find it again.
I currently do not use CNNMoney for anything other than its institutional ownership section. Here is what it looks like:
This tells me what the 'smart money' is doing with this stock. While it does look like a lot of companies are selling, a few things to keep in mind:
Data is delayed, often by a few months. The institutional owners are required to report on a specific cadence, typically quarterly. So the data you see here is not going to be real-time.

Timing. With the end of the year approaching, it seems like many institutional investors will be selling positions that have performed well to satisfy the expenses of the portfolio. AAPL certainly fits these criteria being that it is up 77% in 2019.
---
11. SeekingAlpha.com
I personally enjoy SeekingAlpha (SA) as it is a great website to read about many different opinions. It is a 'crowd-sourced' investing site, where anyone with investment know-how can submit and publish posts (pending editorial, approval of course).
Whenever I am beginning my search on a new stock, SA happens to be one of the first websites I go to. Not only do I enjoy the opinions and insights of the talented authors, the overall screeners and information is helpful too. Being a dividend investor, SA has a special section where they lay out various metrics on dividends such as safety, yield, history, etc. It is an excellent place for an investor to being.
I also write for SA on occasion, so be sure to find me under Matthew Ramey and follow me for recent posts.
Caveat: SA went to a subscription based-model in 2021 which has hampered the site quite a bit. I felt like the most engaging part of SA was the user-driven engagement, first through thoughtful articles, then via the comments. That has largely disappeared as many users are not willing to pay for a subscription service. You are also limit to viewing only a handful of articles per month as well. Overall I will still use this site, but the utility has gone done quite a bit.
---
Do you have any other sites that you use for stock research analysis? If so, comment below and let us know! I might just add them to the list of the Best Stock Research Websites!
---
Simple Investing Now Available!
Want to learn the dividend investing strategy? Learn the ins and outs of how to invest in dividends to grow your passive income!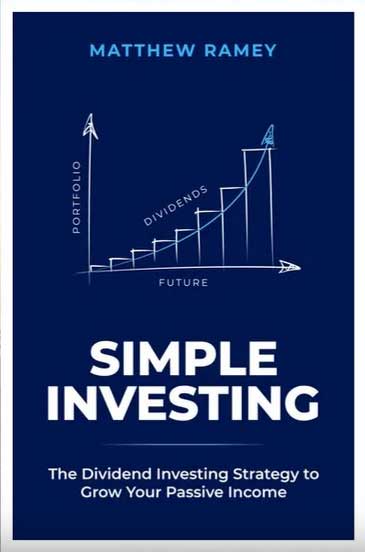 ---
Notes:
As always, be sure to subscribe to our Live Free and Div Hard email list to stay tuned to the latest and greatest tips and ideas on Dividend Investing Strategy!