Best Gifts for Christmas 2020
Welcome to the MoneybyRamey.com Best Gifts for Christmas 2020!

I thought it would be a fun exercise to look a few things I use routinely in my own life and make a Best Gifts for Christmas 2020 list for all of you.

Additionally, I personally own each of these devices and highly recommend each one. I will tell you what makes each of these ideas such a good gift and why I personally recommend the item!

---
Disclosure: These gifts will take you to Amazon.com, where I will earn an affiliate commission should you choose to purchase the item. Note that it costs you nothing extra but helps support and keep MoneyByRamey.com in business!

---
Best Gifts for Christmas 2020
#1 – Amazon Alexa
The first item on my list is an Amazon Alexa. I find that the convenience of owning the device is so high that I recommend it first and foremost as a best gift idea.

Moreover, I personally own three Alexa devices: one in my bedroom, one in my office, and one in my kitchen.

I really do like the modern convenience of being able to ask Alexa pretty much anything that I want to know and have her answer me quickly and succinctly. I tend to ask Alexa things like: what is the weather going to be, what is the news, and what is the daily Harvard Business update.

Just the other day I was too lazy to launch up my computer to find a music selection, so I asked Alexa to play some smooth jazz. She quickly complied and it was an EXCELLENT station. I felt like I was king.

At close to $40, the echo dot is very conveniently priced for most.

There is also the full echo version which is closer to $80.
I personally own the echo dot and have found that it works very well for my purposes.

For all of us investors, voice text and recognition is the wave of the future and in buying an Alexa, we are in tune with the times.

Granted there are going to be some bumps along the way, especially in the area of privacy concerns. But once rolling, a tide cannot be stopped.
We can already see the voice trend taking hold, especially in the area of podcasting and music. Get your Alexa today!

---
#2 – Moleskin Classic Notebook

Everyone needs a nice notebook, so I highly recommend the Moleskin Classic notebook.

Even though we are in a world of increasingly paperless technology, I am an advocate of the paper and pen. Therefore, I rarely leave the house without a notebook of some type.

I use the Moleskin Classic notebook for writing down business ideas, diagraming out a process of some type, or also writing poetry.
There is something so much more sensual and appealing to using the pen and paper to discover and understand the world surrounding us.
---
#3 – Simple Investing
If you or someone that you know is into investing, then I would also say that Simple Investing is an excellent gift idea for the long-term value investor and anyone looking to understand the Dividend Investing Strategy in full detail.
Simple Investing Now Available!
Want to learn the dividend investing strategy? Learn the ins and outs of how to invest in dividends to grow your passive income!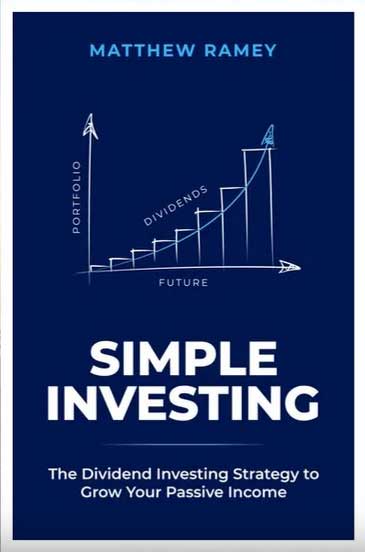 I wrote this book as a culmination of everything that I've learned on my journey towards Financial Freedom as it pertains to buying solid, dividend-paying stocks.

You will discover how to screen for dividend stocks, the concepts behind the strategy, and why dividends are so powerful.

At only $14.00, you can gain all this knowledge, either in ebook or paperback format, which is guaranteed to pay dividends (had to) well into the future.

---
#4 – The Intelligent Investor
Another great investing book to consider buying is the Intelligent Investor by Ben Graham.
This is the investment book that inspired Warren Buffett into the world of value investing. I also use utilized this book as a core foundational piece when developing my dividend investing strategy.

This book is a challenging read, so if you do end up buying it, go slow, take your time, and really digest what is on each and every page.

I would also recommend buying an updated version, which includes both the original writings by Ben Graham – which was based on investing principles developed primarily in the 1920s, 30s, and 40s- as well as a modern-day application of these principles to the current markets.

I happen to own the book with comments by Jason Zweig, which I find to be a very informative back and forth with the initial principle and its application to modern-day investing.
Need more financial book ideas? Check out our recommended financial reading list!

---
#5 – Vehicle Phone Holder
This is another best gift idea for anyone and everyone. I must have gone through three or four different vehicle phone holders before I finally found the Beam Electronics Universal Smartphone Car Air Vent Mount Holder Cradle.

I've been using this particular phone holder for around a year, and have been very satisfied with the overall performance.

In the past, I had experienced many issues in finding a good phone holder:
• I had to use magnets, which didn't work all that well and limited the phone holder use to basically one phone.
• The holding mechanism wasn't strong enough to stay on my vehicle vent or to hold the phone in place.
• I didn't want to attach a suction cup phone holder to my dashboard. Inevitably this would leave a mark and I wasn't sure how well it would work anyways.
Nowadays, I have a phone holder that clips onto my vent and is strong enough to stay for long periods of time (for full disclosure, it has fallen off maybe once or twice, and I had to re-attached and re-adjust it.)

Largely, it has been an excellent investment especially with the new hands-free phone laws that have been enacted here in Minnesota and will be soon (if they aren't already in your location).

I also find that for me as a writer, it helps as I can do voice dictation writing, all while driving down the road. By staying hands-free, I am able to accomplish more, by staying safe.

If you drive, I recommend buying this phone holder.

---
#6 – Samsung Galaxy Tablet
About five years ago, I purchased a Samsung Galaxy tablet right before I was going to have a surgery in which I could not lift more than 2 pounds, which precluded me from hauling around my bulky, performance-based laptop.
I found that the Samsung model was fantastic for my purposes and I still use my older model today. If I do upgrade, I will be looking at the Samsung Electronics Galaxy Tab S4.

Back to my story: I knew that I would be laid up on the couch for about a week, and I wanted an alternative to a laptop that I could easily carry around and move as I moved.

I know a lot of people love iPads, and personally, I think they're great, I just don't happen to be an Apple guy (though I own their stock in my dividend portfolio – go figure!).

In doing vast market research, I ended up purchasing the Samsung Galaxy tablet and have been very impressed ever since.

I'm due for an upgrade pretty soon here as I'm starting to notice the OS is gets a little wonky from time to time but I still routinely bring my tablet to the gym and watch YouTube videos or read ebook books while I'm walking on the treadmill or biking.

The overall performance has been solid, with it displaying lightening-quick processing power which allows me to move quickly from each app.

The only thing I don't like about it is that it is mobile-based operating system, which means the OS is more like a cell phone than an actual computer. This precludes me from using some laptop-based software that I normally use to increase my own personal efficiency.

To sum it all up; I've been very satisfied with the purchase which provides me a good alternative that I've used to do my reading, studying, voice writing, and utilize my gym time extra-wise.
---
#7 – Amazon Kindle
Next up on my best gifts idea list: Amazon Kindle.
I don't travel nearly as much for work as I used to, but I remember I had a conundrum a few years ago.

When I went on these work trips, I would like to bring a few books with me to read on the plane or in between business functions.

I was hampered by the idea of which four or five books to bring with me. The end result? My bags would be very heavy to lug around, which my back in particular didn't appreciate.

I hadn't used the Kindle before, but a good friend told me that I should look into it and that it would revolutionize my life. It has.

Now I still do enjoy a good paperback book from time to time, but the ability to have a Kindle device where I can have tens of thousands of books at my fingertips at any one time has been revolutionary.

Being that I am an avid reader and cannot limit myself to only one book at a time, it makes so much sense to be able to have all these books available without having the corresponding weight to haul around.

One of the nicest elements about the Kindle device is that it can be on mutliple devices and will sync progress amongst books. That means I can read a book on my phone and that progress will be synced to my tablet device (wi-fi willing).

In utilizing a Kindle, I can go on these long trips, and not have the difficult decision of which books to bring and which books to leave home.

---
#8 – Standing Desk
Buying the VIVO Standing Desk has been one of the best investments I have ever made because it directly improves my health on a daily basis.
Sitting is becoming the new smoking. There are numerous studies that if you spend too many hours sitting in a chair, your life expectancy can go down drastically.

Just check out this article that I did on giving up TV for an extended period of time, the basis for which was that while watching TV, one can sit in a sedentary state for hours on end.

In my own life, I have also found it difficult to sit for long periods of time. Since I have played a lot of basketball over the years, my hips are not what they used to be.

This means that if I sit for longer than 30 minutes or so, I really start to feel a sharp pain in my right hip. Therefore, few years ago, I made a reasonable investment in a standing desk for my home office.

The purchase of this standing desk has truly been life-changing.

Now when I'm typing up my articles or doing my business work, I can choose whether or not to sit down or stand up while I'm working.

Note that I do still sit down while working, mainly because I've found that my mind works better when I'm sitting down as opposed to standing. My legs can also get a bit tired if I am standing all day.

However, I find that having the option to sit or stand really allows me to be in my best physical condition throughout the entire day as I can adjust when needing.

I have had the VIVO Standing Desk for 2+ years now and have been very impressed with its reasonable price, its versatility, and its quietness, especially when compared to some standing desks I've used.

The biggest drawback is that it is somewhat heavy and tough to move around. However, once you get it into place, you are good to go.

---
#9 – Storytelling with Data
An excellent book that I have picked up recently is Storytelling with Data, and I highly recommend this as a gift idea, especially for those who use statistics especially in a presentation setting or are more analytically-minded.

More and more on my career path, I am dealing with increasing complexity in both data and the presentation of that data.

As part of my growth, I wanted to understand how to be a better storyteller around the various data points that I was asked to extrapolate. I found this book very enlightening to my overall career path and general curiosity.

The author is a former Google employee who was charged with creating dashboards and various metrics for reporting at Google, and her thoughts and insights regarding the presentation of data are fantastic.

I haven't yet finished this entire book, mainly because I'm slow-reading it because there is so much to take in.

I highly recommend that anybody who's looking to understand data sets and the presentation of data sets in more detail pick up Storytelling with Data!
---
#10 – Bose Headphones
About five years ago, I made the gift of investment into a very nice pair of Bose headphones.

The particular pair of headphones that I purchased have performed very well for me throughout my ownership period. In fact, the headphones have performed so well that I have been hesitant to buy another pair as I like these so much.

However, five years of wear and tear have taken its toll and it is now time to look into purchasing a new pair. Since Bose has treated me so well, I am going to re-up on my Bose ownership and buy a brand new pair.

I'm looking at are Bluetooth wireless headphones which are basically the same model that I owned before, the only difference being these headphones are of a wireless capability.

Even though these headphones are expensive, I justify the purchase as:
1. These headphones will last me many years
2. The per-use cost is not as expensive. For instance, if these headphones cost me $300, but I use them 1,000 times, then the per time use cost is $.315. For the comfort, sound, and feel of Bose, I feel this is worth the cost.
If you are in the market for a solid pair of headphones, I highly recommend Bose!

---
#11 – Spikeball
Excited on my next gift list?
Now if you're a yard game enthusiast, and you haven't purchased Spikeball yet, you need to get this game in your life.

My brother-in-law just bought Spikeball and introduced it to our family this past summer. We have been hooked ever since. In fact, it quickly became the most played yard game for the Ramey family.

The game is very similar to volleyball, only instead of a net that you hit the ball over, you have a net on the ground that you bounce the ball off. Each team has 3 hits (same as volleyball) and then the other team gets their chance.

The really nice thing about this game is that it doesn't require a ton of movement if you're playing a casual, fun game. Therefore even my sixty-year-old parents can play, and it is still a lot of fun for the entire family.

Don't get me wrong, the volleys can get intense and when you get more skilled at the game, it becomes an intense, back and forth workout.

This is up for my 'best game of 2020' title.
---
#12 – Kubb
Since we're on the topic of yard games, I wanted to throw out another Ramey family favorite and candidate for best gifts category: Kubb.

I was walking past a Minneapolis Park heading out to the Minneapolis Orchestra one night, and I stumbled across people playing a game I had never seen before.

I sat and watched for a while and watched them play this game. There were teams on two sides opposite each other. On each side were five blocks and one large 'king' piece in the middle. The teams were trying to knock over the other team's blocks all in an attempt to knock over the piece in the middle.

Curiosity got the best of me, and I began to ask them questions. They told me that they were playing a Scandinavian-based game called Kubb.

Soon after, I ended up buying the game and it is now another yard game that our family plays on a routine basis.

One of the things that I love about this game is that it's a team-oriented game where you can have as many people on one side as you want (we typically play up to 5 on any one side).

It's easy to hold your beer, have fun conversation, and trash talk your friends and family as you toss the batons to knock over their pins

Buy this game today for your next BBQ!

#13. Panorama Wooden Playing Card Holders
I don't know about you, but I LOVE playing cards. I'm super competitive by nature and cards help me channel into that nature my close friends and family.
One of the games I enjoy playing is Gin Rummy. I tend to pick up a lot of cards, so started researching cardholders and fell in love with the Yellow Mountain Imports Playing Card Holders.
Now I can pick up the pile without having to worry about how I will hold all the cards. Friends, Family, and Foes, beware!
#14. Catan The Board Game
In addition to playing card games, I really enjoy a good board game too. Settlers of Catan is the perfect game to play with friends and family alike.
The goal of the game is to control resources, build settlements, and otherwise dominate the board. Each game is different because the resource squares change positions, so the variety is endless.
#15. Lamicall Cell Phone Stand
So I had a conundrum in my life: I needed a better way to view my cell phone while at my work station. Rather than picking my phone up everytime a message came in, I found an excellent phone stand produced by Lamicall.
Not only is this stand sturdy, it provides me easy access to view messages when they come in. I like to be fast in the business world, so it's important to me to be able to quickly view what is on my phone. Speed of business!
---
Hopefully, you have enjoyed our Best Gifts for Christmas ideas list! I'll keep adding to this as I find more recommendation-worthy products. Happy Holidays and Merry Christmas to you and yours!