The Money By Ramey Portfolio: December 2020
Hi everyone! Here is the MoneyByRamey.com Dividend Portfolio December 2020 Update:
MoneyByRamey.com December 2020 Dividends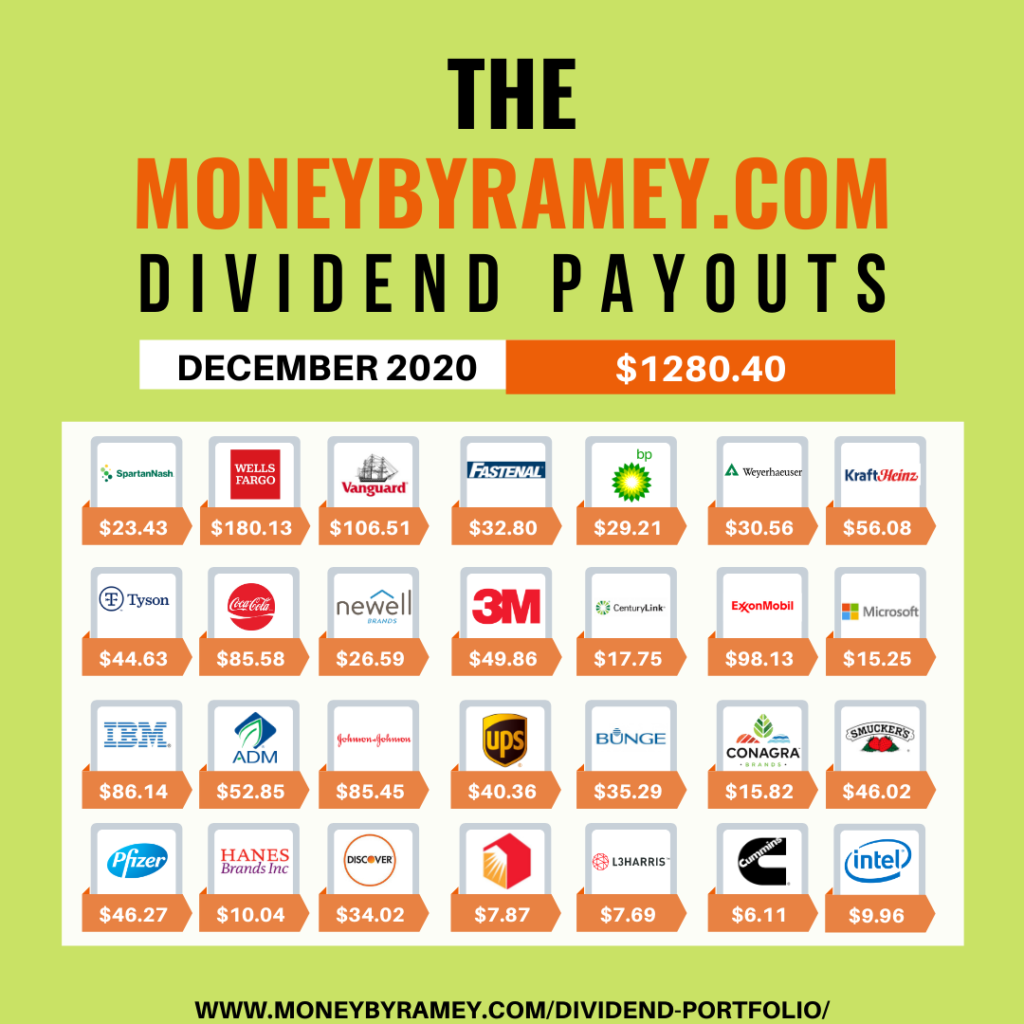 ---
MoneyByRamey.com Dividends 2020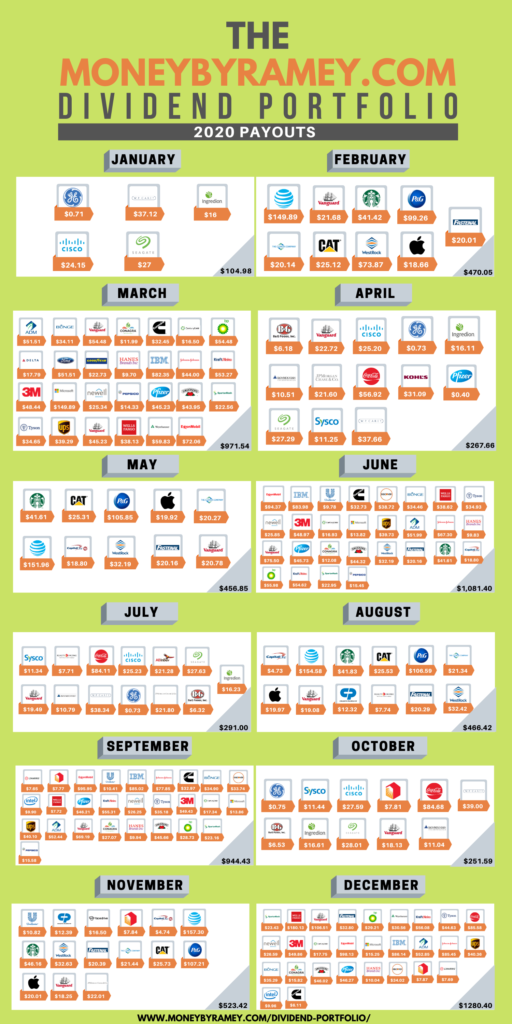 ---
December 2020 Top 10 Stocks by Value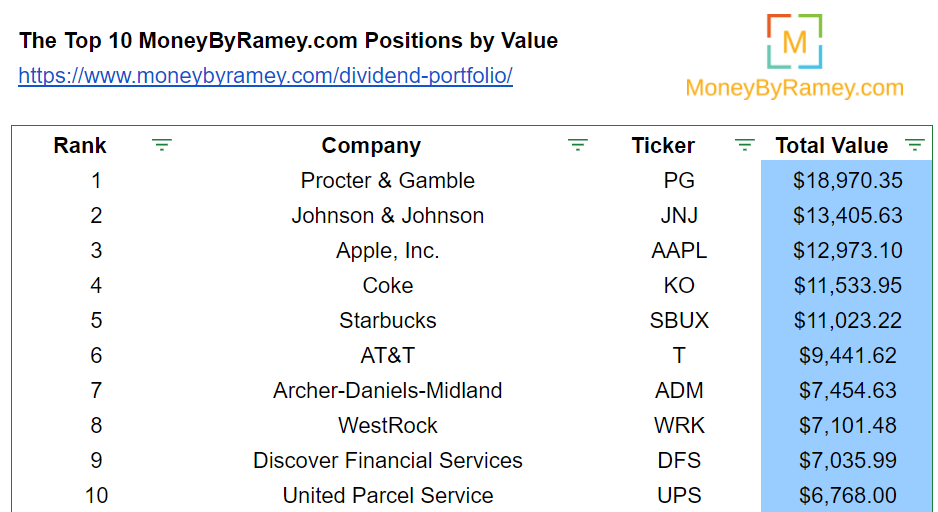 $PG continued its top performance by being the #1 ranking dividend stock by value in 2020. It has performed well due to consumers continuing to buy quality, household name brands of this company, even during the pandemic.
We continued to add to our $JNJ position throughout 2020 and it has paid off handsomely. Being of the forefront of the Covid19 vaccine response, we're confident in the company's future in 2021 and beyond.
$AAPL was the gem of our portfolio in 2020. We added this position to help preserve some of our cash position. The 4-1 stock split was a sight for sore eyes. This helped to propel our position in Apple to the top 5 of the MoneyByRamey.com portfolio.
$KO continues to be a solid performer. We're hoping to see more organic growth for this company through acquisitions and growing its own portfolio of name-brand produce.
$SBUX continues to be a star performer. There were and still are major concerns in its growth in China. 2021 will be in an interesting year for this stock.
December 2020 Top 10 Stocks by Dividend Income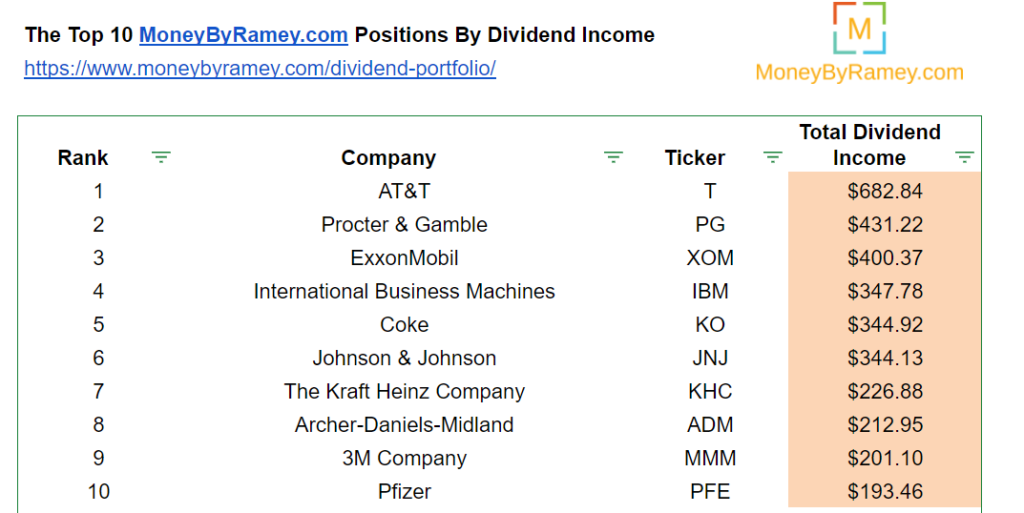 $T rounds out the top 5 for our dividend positions by dividend income. Fueled by solid cash flow, it is hopeful that this stock can continue to perform well into 2021 and beyond. There is some concern that the company did not increase its dividend as expected in 2020, but MBR continues to be bullish on this company and its future prospects.
$PG is the stellar-star performer, being #1 for value and #2 for dividend income. This shows that consumer staples is still a solid sector to be involved in.
$XOM is the #3 performer for dividend income, fueled mainly by a very high dividend payment relative to the share price. Since we have all of our positions on DRIP, this has added a lot of shares in the company via dividend reinvestment. We may trim this position in 2021 or perhaps chang the dividend to cash. Stay tuned.
$IBM is the #4 position with a declining share price and a higher dividend. There is some risk here, but for now, the rewards outweigh the risk.
$KO is the #5 position and continues to be a solid performer. With a top 3 worldwide brand recognition, we're confident in this stocks performance in 2021 and beyond.
Check out the full MoneyByRamey.com portfolio here.
---
Simple Investing Now Available!
Want to learn the dividend investing strategy? Learn the ins and outs of how to invest in dividends to grow your passive income!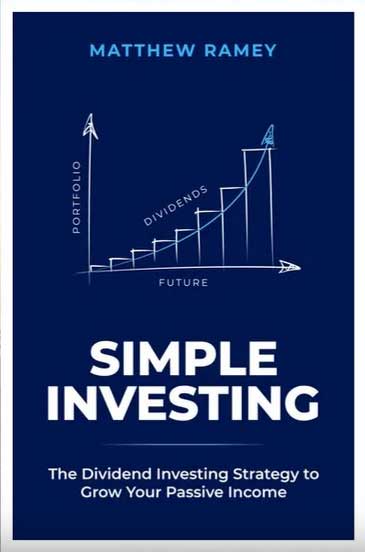 ---
Want to Learn Active/Passive Income and Investing Strategies?
Sign up for our Live Free and Div Hard email list to receive exclusive ideas and tips straight to your inbox!
---
Disclosure: I am/We are long $AAPL $ABT $ADM $ALL $BG $BGS $BP $BUD $CAG $CALM $CAT $CL $CLX $CMI $COF $CPB $CSCO $DAL $DFS $F $FAST $GD $GE $GIS $GT $HBI $IBM $INGR $INTC $IRM $JNJ $JPM $KHC $KMB $KO $KSS $LHX $LUMN $MMM $MSFT $NWL $O $PEP $PFE $PG $SBUX $SJM $SPTN $STAG $STX $SYY $T $TSN $UL $UPS $VZ $WBA $WEN $WFC $WMT $WPC $WRK $WY $XOM
Disclaimer: All the information above is not a recommendation for or against any investment vehicle or money management strategy. It should not be construed as advice and each individual that invests needs to take up any decision with the utmost care and diligence. Please seek the advice of a competent business professional before making any financial decision.
(2) This website may contain affiliate links. My goal is to continue to provide you free content and to do so, I may market affiliates from time-to-time. I would appreciate you supporting the sponsors of MoneyByRamey.com as they keep me in business!